Sunken N31 makes Harlingen one whole again
Davey Wieffering
The N31 is the direct connection between Amsterdam and Leeuwarden. The road creates a division of Harlingen. By building a new road largely sunken, the visual division of Harlingen has vanished. In the new situation, the road crosses the Van Harinxmakanaal in the form of an aqueduct. Waiting times at the Koningsbrug for automotive traffic are a thing of the past. The railway is crossed 'on different floors', with the track running over the N31. The N31 has been widened to 2×2 lanes.
The construction of the new N31 is a joint project of Rijkswaterstaat, the province of Fryslân, the municipality of Harlingen and ProRail. Our customer received the contract to install foundation piles under the LEKA railway line. For this work, with a limited working height, Solines supplied custom-sawn pipes fitted with bevels and spray lances.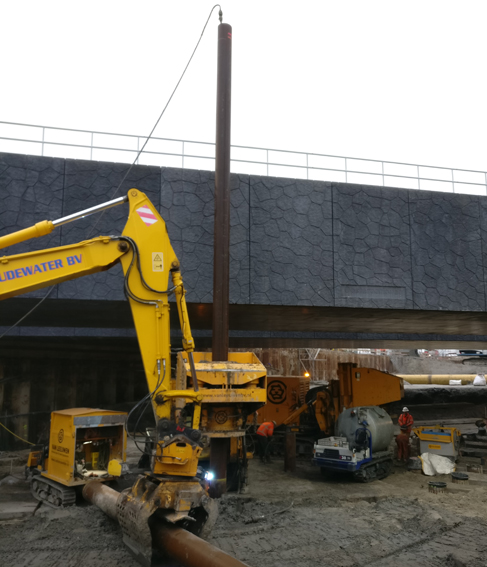 Solines delivered custom-cut and beveled drill piles Ø 406.4 x 8mm including spray lance.
In total, 119 LEKA piles Ø 406.4 x 8mm were drilled vibration-free. Due to the limited working height of a maximum of 5.2 metres under the track, 92 piles had a maximum segment length of 4.0 metres; these piles were installed in 5 sections. The remaining piles consisted of two sections.
Solines handled the delivery of cut-to-size, sawn and drilled drill piles Ø 406.4 x 8mm including spray lance. The drill points were welded into the work by our customer.
The adaptation of the national road is part of the integrated area development within the municipality of Harlingen.