Hot-dip galvanized steel pipe always in stock
Hot-dip galvanized steel pipes
At Solines, you will always find a wide range of longitudinally welded galvanized steel pipes.
Such pipes are thermally (= hot dip) galvanized. This means that these pipes are immersed, giving them a coarse zinc layer that adheres to the inside and outside of the pipe. In contrast to electrolytically galvanized pipes, all sides are treated here and not just the outside.
A hot-dip galvanized steel pipe is resistant to corrosion and has a robust and industrial appearance due to their coarse finish. The galvanized pipes are therefore sturdier and heavier than aluminium pipes. For that reason, we see that galvanized steel pipes are often used in steel construction, traffic engineering and scaffolding construction.
Solines collaborates with the most reliable and highest-quality factories around the world. Every galvanized steel pipe we have in stock is specially produced for Solines and was shipped by sea container to our branch in Moerdijk. There, all materials are properly stored until they are sold. Then we deliver the materials quickly with our own transport throughout Europe.
Range of galvanized pipes
Solines always has an assortment of galvanized steel pipes in stock:
Galvanized steel pipes – with thread and socket
Galvanized steel pipes – with Victaulic coupling
Galvanized steel pipes – electrolytically galvanized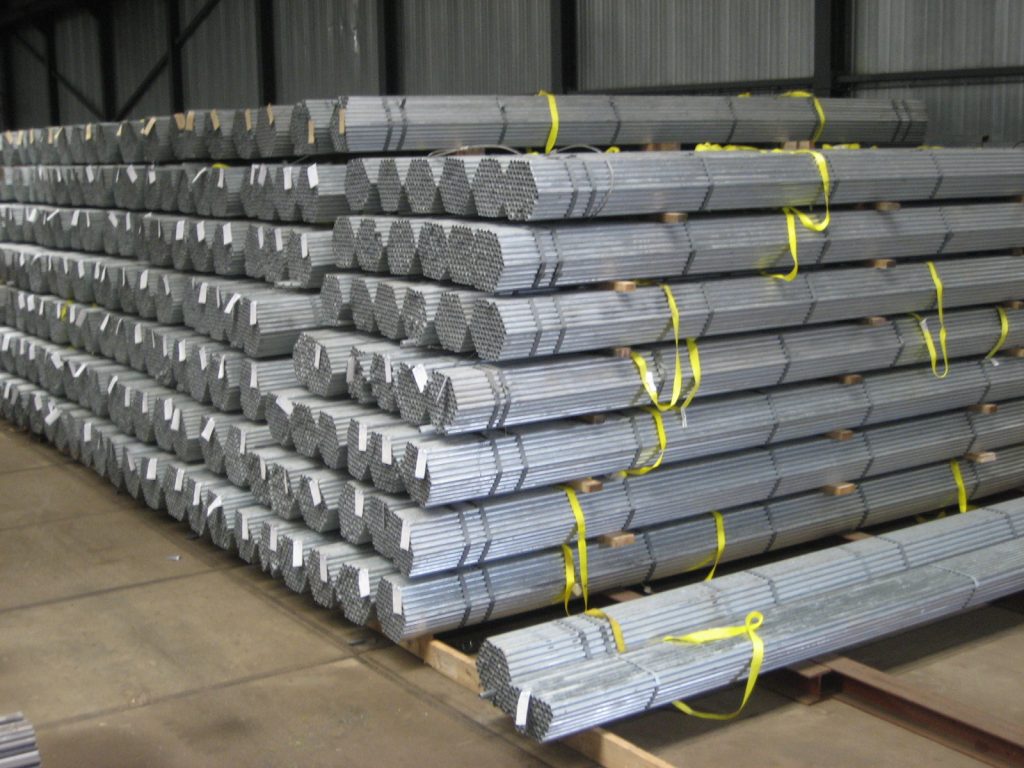 Solines always keeps the most common dimensions in stock:
From 3/8″ to 4″ (Ø 17.2 mm through Ø 114.3 mm), Solines always has sufficient stock. You can find both class A and gas pipes in these diameters. Naturally in accordance with the highest standards including certificates. Thanks to our extensive network, Solines also often has access to chance lots or alternative diameters that can be offered at an extra low cost.
High quality steel tube at a low price
Galvanized pipes from Solines are produced in accordance with the highest standards (e.g. EN 10255/EN 10240 or EN39 for scaffolding pipes). Because we purchase large volumes, we can offer sharp prices. And due to the constant stock, we are able to limit price fluctuations as much as possible. At Solines, you are always sure that you are buying a good product at a favourable price.
Contact
For all your questions about galvanized steel pipes, please contact our experienced advisers. They can tell you exactly which galvanized steel pipes are the most economical choice!
About Solines
Solines is a wholesaler of steel surplus pipes and new galvanized pipes from new production by renowned manufacturers. We are fully focused on quickly providing our customers with good-quality galvanized pipes at very competitive prices.
Thanks to our modern equipment and skilled staff, we are able to provide the best service to our customers. At our locations in Moerdijk and Germany, we have a total stock of more than 40,000 tonnes of steel tubing. More than 2500 tonnes of these are new galvanized pipes in different diameters and wall thicknesses.
If desired, Solines also provides customization. We can cut the galvanized pipes to any desired length. In addition, we offer a variety of other modifications to the galvanized pipes. Consider, for example, rejuvenating or perforating the tubes. In addition, Solines has good logistic facilities and a flexible working method.
These are the commonly used dimensions for galvanised pipes: