Longitudinally welded steel pipes
available directly from stock in any desired length
Competitively priced longitudinally welded steel pipes
Are you looking for longitudinally welded steel pipes? With a specific diameter, length or wall thickness and at the lowest possible price? Choose Solines!
Solines supplies longitudinally welded pipes at very competitive prices. We can do this because we buy and store surplus batches and (new) second choice longitudinally welded steel pipes in large quantities. We work together with the most high-quality manufacturers.
Solines also has an extensive network of suppliers, which means that even that hard-to-find sizes can be delivered quickly and cost-effectively.
Broad range, various dimensions and lengths
We are an international supplier and stocker of surplus batches and new, second choice, longitudinally welded steel pipes. Our total stock of steel pipes is around 40,000 tonnes, ranging in diameter from 10 to 2500 mm. Thanks to good contacts with the most high-quality steel pipe manufacturers, we are always able to meet your need for longitudinally welded steel pipes. We also have an extensive network of suppliers as well as an independent branch in Germany. If we do not have the desired size in stock, we know exactly where we can find longitudinally welded pipes at the best possible price thanks to our years of experience.
Customization in longitudinally welded steel pipes
You can have our longitudinally welded pipes cut to any desired length. Do you also need welding work, or do you want the tubes fitted with widened ends? No problem! Solines Welding and Construction has a professional workshop to expertly perform all the common work on your pipes.
With Solines Welding & Construction, we carry out the most common welding work. We can perform custom cutting, welding, beveled ends, flaring, attach flanges blasting and coating. Foot plates or drilling points and waterpipes for injection grouting are among the possibilities. Feel free to ask about the options.
We work exclusively with qualified staff and materials of the highest quality. We also have a high-quality OP welding robot that can, if desired, weld under a powder deck (SAW).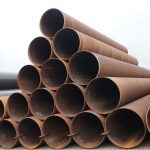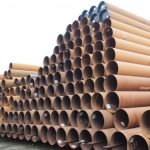 New, second choice pipes and surplus lots very competitively priced

Broad range always in stock

We deliver customized work if desired

Quick delivery due to big stock and excellent infrastructure
Quick delivery
The strength of Solines is customer-oriented service. Thanks to our enormous stock, we are able to deliver quickly both in the Netherlands and in other European countries. Loading is efficient, fast and flexible. This is possible because we have 5 mobile cranes, 3 terminal trucks and 5 trailers. Do you prefer to receive the materials directly at your work with a truck-mounted crane? Then we will take care of that! Solines works with reputable transport companies.