Cut and belled out, and as needed fitted with footplates, everything is possible at Solines
Bell end steel pipes
Especially for pile pipes and (pressure) bores, we see a lot of bell end steel pipes used. But what exactly is a bell end pipe?
A bell end pipe has been hydraulically widened at the end of the pipe. This makes the inside diameter equal to the original outer diameter. This means that a pipe with the same diameter fits into the bell end.
We use our belling machine with belling scales for preparing bell end pipes. This produces a short bell of approx. 5 cm. This ensures that your length loss is kept to a minimum. Solines will bell pipes for you from Ø 168.3 mm through a diameter of Ø 508 mm. In addition, Solines also has a professional workshop where footplates can be welded on every dimension.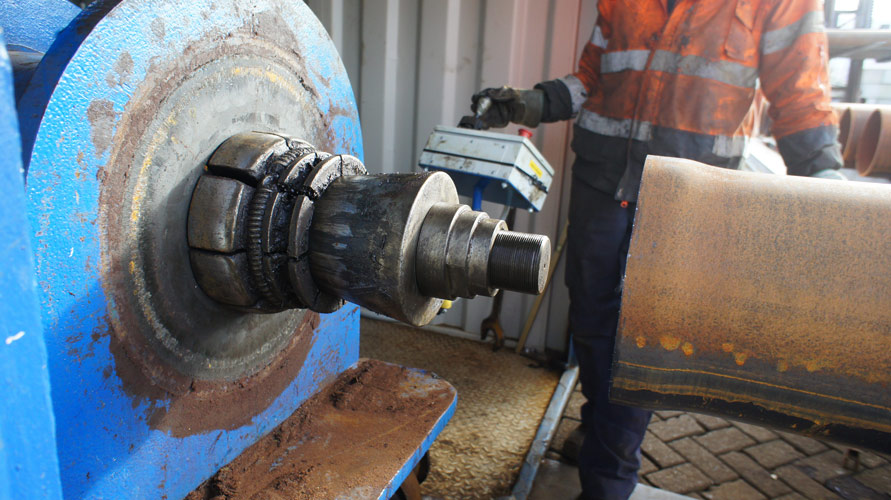 Customization
Bell end steel pipes are just one of the customized options that we can offer. In addition to preparing bell ends, we also have no problem cutting steel pipes up to a diameter of 820 mm, and we extend our steel pipes by means of a round weld up to 36 meters. Customization at Solines means that we collaborate with you and start with what you need. Because we also limit the loss of scrap as much as possible and take care of the environment. This also ensures that we can offer our steel pipes at competitive prices.
Peace of mind
In order to completely handle things for you, we are happy to provide tailor-made solutions for your work. We have a professional workshop with the latest equipment where skilled and motivated employees can handle your personalized job! Here we cut pile pipes in different diameters, wall thicknesses and lengths for you, including bell ends. If desired, we also weld on footplates. For delivery, the pipes are neatly bundled, and if necessary delivered with a crane truck on location. No matter where you are. All you have to do is drill in the pipes!
Competitively priced steel pipes
Are you looking for a steel pipe with a specific diameter, length and wall thickness for the lowest possible price? Then choose Solines! We only deliver steel pipes at very competitive prices. We can do this because we make large purchases of new second choice steel pipes and surplus batches. We like to maintain a stock from which we can deliver quickly and cheaply. That is why we regularly purchase the most frequently used diameters for pile pipes from high-quality producers.
Broad range
Solines is an international supplier of new surplus steel pipes, profile pipes and second choice batches. The total stock of steel pipes is over 40,000 tonnes, ranging in diameter from 10 to 2500 mm. Due to the additional range of steel pipes from our second independent branch in Germany, we are always able to offer what you need.
Quick delivery
Solines delivers in the Netherlands and in other European countries. Loading is fast and efficient because Solines has a large stock and excellent logistics. Examples are terminal trucks, trailers and a second independent branch in Germany. The central location of the industrial park in Moerdijk with direct connections to the surrounding motorways, deep sea access and its own connection to the rail network gives us a unique position.