The alternative for prefab concrete piles
Steel pipes for foundations
Steel pipes for foundations
Solines is an international supplier of new, second choice steel pipes, profile pipes and surplus batches. Are you looking for steel pipe piles or foundation piles? Then Solines is a good, reliable partner with 40,000 tonnes of round pipes and steel profiles in stock. Steel pipe piles have been used for some time as foundation piles for, for example: office buildings, schools, warehouses, foundations for heavy machinery and new construction in cities.
For foundation repair, materials and machines are often required that can function in a limited workspace. This repair work usually takes place afterwards, when all the structures around it have already been placed. The choice then falls on the use of steel pile systems and compact pile-driving installations.
Especially when the work space is limited, for example when working inside buildings, steel pipe piles are very suitable as foundation piles. With small access openings, the work can be done with small-scale foundation machines that can also be disassembled.
Combining mini-foundation machines and steel pipe piles for foundations is ideal for urban renewal and foundation repair work. Fast and flexible deployment is possible due to this combination. When the foundation work has already been completed and additional piles are needed, foundation piles can be quickly placed in confined spaces with limited heights.


also for
customization
Welding on the drill point
Belling the pipe piles
Application of a bevel or weld edge for the round seams
Placing the grout injection lance
Various welding work
Coating or galvanizing the pipes
Delivery of the foundation piles on location
The alternative for prefab concrete piles
There is currently a considerable shortage of prefabricated concrete piles. This shortage has resulted in a delay in construction, resulting in an increase in costs. A great alternative can be found by using steel pipe piles from our stock. Especially in housing projects, delay must be prevented. If concrete piles are not available, steel pipe piles can be used well as foundation.
Steel pipe piles can be prepared for you at any length and thickness. The diameters differ depending on the load. These can be customized to customer specifications and fitted with a welded-on bell end and foot plate. After bundling these pipes, they are delivered directly to the job site with our own trailers. Delays of the construction project are prevented in this way.
The ideal foundation piles for limited spaces
When access with prefab concrete piles is not possible, steel piles are the solution. There are various locations where prefab piles cannot be placed. Examples are places under viaducts, under pipes or between factory installations. In some places, heavy piling work is sometimes just not permitted, due to noise or when temporary foundations are desired.
Another application area may be if there is a large variation in soil conditions at the location. Due to the availability of a variety of pipe diameters, various pressure and tensile loads are also possible.
Our steel pipes are made of S235 or S355. This structural steel has excellent properties: it is a relatively soft material, has a low carbon content, excellent weldability, can be deformed cold and hot, and it has great stretch.
How is a steel pipe pile installed?
The steel pipe pile is built on site with pipe elements of various lengths and thicknesses. The first pipe element is fitted with a gravel plug at the bottom, then a pile driver follows; the pipe itself takes care of guiding this pile driver. The pile pipes are connected to each other by means of bell end socket connections. Once the steel pipe pile is at the correct depth, it is cut off at the desired height. Then it is filled with concrete, and a head reinforcement net is placed over the top.
---
The technique
'Low-vibration pile driving' is the most frequently used technique for placing steel pipes as foundation. In addition to low-vibration pile driving, there is also vibration-free screwing as a technique or screw injection as a placement option. The load capacities are always calculated according to the NEN standards.
The low-vibration pile driving is done with a fall block that sits in the pipe and falls on a gravel plug. Once a pipe segment is at the correct depth, the next pipe segment is inserted and welded into the bell end of the previous pipe segment. Then the pile driving is resumed. This process continues until the foundation pile is at the correct depth. The pipe segments are welded together with angular welds and a bell end.
Then the piles are filled with concrete. Often, the last two meters at the top of the pile are also fitted with a frame that is pressed into the poured concrete. The result is two meters of reinforced concrete, which is sufficient to accommodate the changing groundwater levels.
Due to the low weight of the pipe pile to be driven, little energy is needed to drive it. That is why this technique can be seen as 'low vibration'. This technique is also 100% soil displacing. The pipe piles can withstand both high pressure and tensile forces.
Finally, pipe piles can be fitted with a reinforcement over the entire length. The coverage of the reinforcement can be secured by distance holders.
Would you like to know more?
Our experienced staff are happy to help you with specific and personal advice. We are a highly specialized and experienced steel supplier and deliver an excellent price-quality ratio combined with customer-oriented service. All our steel pipes are made of high quality steel grades such as S235 or S355, but higher qualities are often also available from stock.
We collaborate with you and offer you targeted solutions. With our own trailers, efficient delivery of the materials is guaranteed.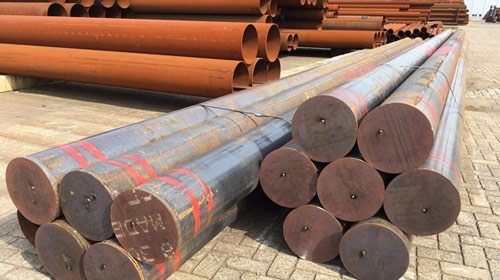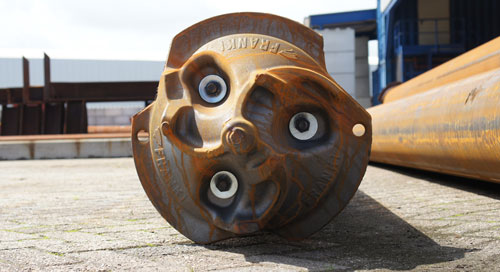 Welding under powder cover for drill points
Solines your partner in foundation piles