Cut to size with our Behringer band saw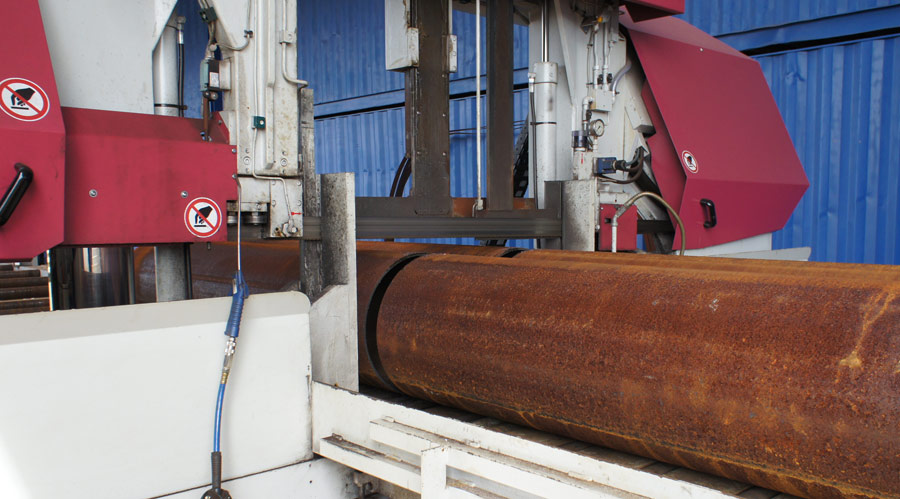 Cut-to-length pipes reduce costs
You can turn to Solines for customized cutting of your steel pipes! We are happy to handle things for you by delivering custom work to your work. For this, we have a professional workshop with the latest equipment and expert, motivated employees. We cut steel pipes in different diameters, wall thicknesses and lengths for you, up to a diameter of 820 mm. Thanks to our professional Behringer saw, we can cut quickly and accurately. If the diameter is larger than 820 mm, we can also cut the pipes to size with a torch cutter.
Competitively priced steel pipes
Are you looking for a steel pipe with a specific diameter, length and wall thickness for the lowest possible price? Solines supplies steel pipes at very competitive prices. We make this possible by purchasing large quantities of new second choice steel pipes and surplus batches. We regularly purchase the most frequently used diameters for pile pipes from high-quality producers. As a result, we always maintain a stock and can deliver quickly and cheaply.
Broad range
We are an international supplier of new, second choice steel pipes, profile pipes and surplus batches. The total stock of steel pipes is always around 40,000 tonnes, ranging in diameter from 10 to 2500 mm. Due to the additional range of steel pipes from our second independent branch in Germany, we are always able to meet your need!
Customization in steel pipes
You can have pipes cut to any desired length. Do you also need welding work done, or do you want the pipes fitted with bell ends? No problem at Solines! We have a professional workshop to do all the common work on your pipes.
Quick delivery
Solines delivers in the Netherlands and in most European countries. Loading is fast and efficient because Solines has a large stock, terminal trucks, trailers and a second independent branch in Germany. The central location at the industrial park in Moerdijk with direct connections to the surrounding motorways, deep sea access and its own connection to the rail network gives us a unique position.