Buy pile pipes from surplus at Solines
Pile pipes total package
Are you looking for a supplier of pile pipes that can provide a total package of steel pilings? Then choose Solines! We are happy to handle everything about pile pipes for you. Any desired length and thickness for the complete pile construction can be delivered by us at lightning speed. We also deliver custom-cut pipes, bell-end steel pipes and steel pipes with base plate. All at very competitive prices!
A wide range of pile pipes in stock
Solines has a large stock of pile pipes in the following frequently requested standard sizes:
Diameters from 168.3 through 508.0 mm
Wall thicknesses from 4 mm up to 6 mm
Standard lengths of 12 m
Your pile pipes can be cut to any desired segment length. And if you need different lengths, diameters or thicknesses, you have come to the right place.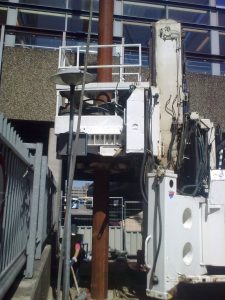 New pipes at surplus prices
Pile pipes that you order from are produced new for Solines but delivered without a certificate. These batches are purchased in large quantities and kept in stock at our locations in Moerdijk and Germany. This way we can offer you first-class quality pipes at very competitive surplus prices.
Quick delivery
Your pile pipes are delivered quickly and flexibly at any desired location with lorries that we use with our own crane. We also work together with reputable carriers for an even faster delivery. Thanks to our large stock and excellent logistics facilities at both the Moerdijk and Germany locations, we can respond quickly to your need.
Personal advice
Feel free to contact our specialists. They are happy to advise you on the most favorable solution.