Steel pipes from surplus are newly produced pipes without a certificate, just as good quality just cheaper.
Steel pipes from surplus batches
Solines is a specialist in the purchase and sale of steel pipes from surplus batches. Steel pipes from surplus are newly produced pipes. The pipe producer delivers these without a certificate. The steel quality, thickness, diameter and length of the pipes are of course determined precisely.
When does a pipe manufacturer offer steel pipes without a certificate?
A pipe manufacturer can have different reasons for offering steel pipes without a certificate. For example, due to overproduction or when a batch of steel coils has been in stock for too long.
Overproduction
Steel tubes are formed from coils. These are large spools of sheet steel of a certain length and steel grade. The pipe manufacturer converts the steel from a coil during the production process into steel pipes. These pipes are tested after production and have a factory certificate.
However, a customer does not always take all the pipes that are made from a coil. As a result, the producer has leftover pipes from every production run, and that is called the surplus from the production.
These pipes are offered directly on the market as surplus pipes. These are therefore new pipes of good quality from reputable producers, but not provided with a certificate.
Steel coil too long in stock at factory
It also happens regularly that the pipe manufacturer has a surplus of coils of a certain steel grade or steel thickness. The manufacturer may then decide from the point of view of stock management to produce steel pipes from these coils and to offer them without a certificate.
High quality at a low price
The steel pipes from surplus that you buy from Solines are therefore new pipes without a certificate. These tubes are also referred to as second choice, but this does not mean that the pipes are of inferior quality. The steel pipes you buy from us are, after all, exclusively from pipe producers with a very good reputation.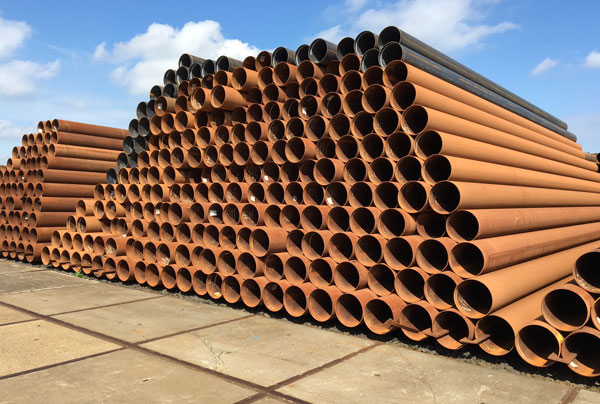 Quality testing
We can have the steel quality of the pipes tested in advance by an independent test institute. They then perform various tests such as a Charpy impact test, tensile test and test of the yield strength. This way, you are assured of high quality without a certificate.
Contact
For all your questions about steel pipes from second choice batches, please contact our experienced advisors from the sales department. They know exactly which steel pipes are the most economical choice for you.
About Solines
Solines is a wholesaler in steel pipes from surplus batches. We are fully focused on quickly providing our customers with good-quality steel pipes at very competitive prices. We have a stock of more than 40,000 tonnes of steel pipes in various cross-sections, thicknesses and quality. Solines delivers customization, which means that we cut and weld steel pipes to any desired length. In addition, we can also fit pipes with water pipes or drill points. We also have good logistic facilities, and we focus on a flexible working method.