PE-clad pipes are steel pipes with a polyethylene shell. Available from stock at Solines
PE pipes
PE clad steel pipes are available in different colors and sizes. A steel pipe with PE coating is often used as a casing or for piles in the water. Thanks to the PE shell, the life span of the steel pipe is considerably extended. Solines has over-stocked surplus batches and second choice steel tubes with PE-coating in stock that can be offered at low cost.
Does not Solines have the desired size in stock, but you want protection for your steel pipe? Then the steel pipes from Solines can also be fitted with a DTM paint system from, for example, Sigma Cover. These coating systems can be applied in any color and layer thickness. DTM stands for Direct To Metal. This is a paint system based on epoxy polyamine hardener that can be applied directly to the metal. This coating is extremely resistant to (sea) water. It prevents erosion of the metal and prolongs the life of the steel pipes. It is not without reason that this paint system is frequently used in wet contracting.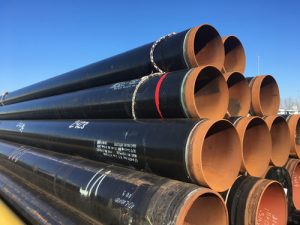 Epoxy coating
Epoxy coating is generally described as very hard/rigid and is often used as a preservative coating. The lifetime of the epoxy coating is partly determined by a good pre-treatment. A good pre-treatment includes things such as sanding/grinding and blasting. After the pre-treatment has been done, a suitable coating system is selected and applied, depending on the requirements.
Multiple layers can be applied to achieve the desired layer thickness. Layer thicknesses are indicated in micrometers or microns (μm). 1 micron is equal to 1 thousandth of a millimeter. Solines has the right contacts for applying your preservation system. Thanks to our extensive stock of steel pipes, you always have short delivery times with Solines.
Competitively priced PE pipes
Are you looking for a pipe that can serve as a jacket pipe, or are you looking for a pipe for a mooring facility in your marina? A pipe with a specific diameter, length and wall thickness for the lowest possible price? Then you should be at Solines! Solines supplies PE coated pipes at very competitive prices. We can do this because we buy large quantities of second choice steel pipes and surplus batches of steel PE-clad pipes.
Broad range
We are an international supplier of new, second choice steel pipes, profiles and surplus batches. The total stock of round pipes and steel profiles is around 40,000 tonnes, ranging in diameter from 10 to 2500 mm. Due to the additional range of steel pipes from our second independent branch in Germany, we are always able to meet your need.
Customization in PE pipes
You can have PE pipes cut to any desired length. Also, the belling of the pipes is not a problem. At Solines, we have a professional workshop to expertly perform all the customization on the pipes. We also have the right professional contacts to have your preservation done on our uncoated steel pipes.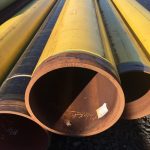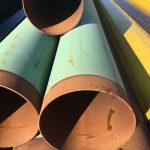 Surplus batches and new second choice tubes, very competitively priced

Broad range of PE-clad steel pipes in stock

Customization: PE-clad pipes or pipes with a different preservation system of your choice

Quick delivery due to large inventory & excellent infrastructure
Quick delivery
Solines delivers in the Netherlands and in European countries. Delivery is fast and efficient because Solines has a huge stock, 5 mobile cranes, 3 terminal trucks, 5 trailers and a second independent branch in Germany. The central location at the industrial park in Moerdijk with direct connections to the surrounding motorways, deep sea access and its own connection to the rail network gives us a unique position.