Lengthening of pipes, welding of drill points or flanges: everything is possible at Solines Welding & Construction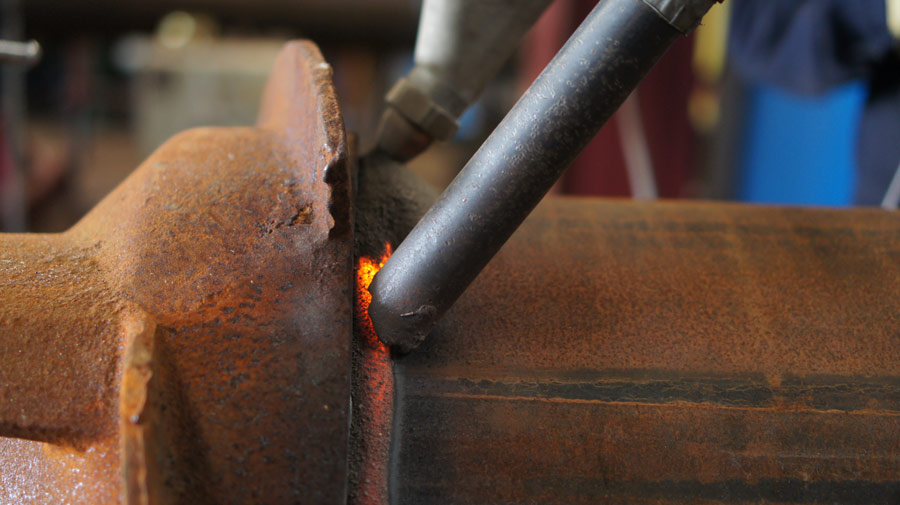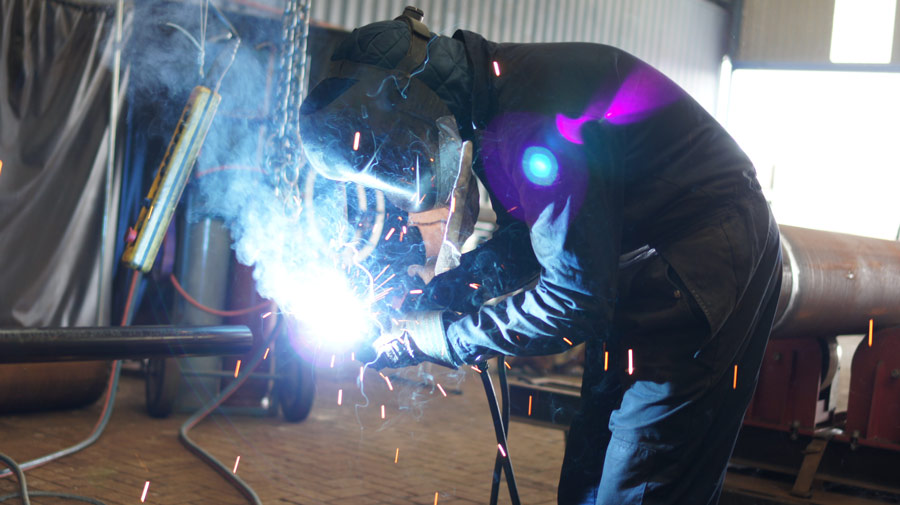 Customized welding – Complete peace of mind
Thanks to our professional workshop with the latest equipment and expertly motivated employees, we can take care of everything for you. We work exclusively with high-quality materials and have access to an OP welding robot that makes high-quality welds quickly and effectively. Because of our large stocks and professional production facilities in-house, we can respond quickly. This means that materials can be delivered quickly, economically and complete to your job. The work we can do for you includes:
Pile pipes in different diameters, wall thicknesses and lengths that we cut for you to size, we provide with a bell end and weld on a footplate if desired.

We custom-weld LEKA/TUBEX foundation piles and other types of drill pipes and, if desired, provide a drill point and grout injection lance.
The drilling points for screw injection piles (SIP) are also welded in-house for you.

The drilling points for screw injection piles (SIP) are also welded in-house for you.

We can weld on sheet piles, pile heads, various sheet steel, profiles and all the most common welding jobs with our steel pipes.
Competitively priced steel pipes
For steel pipes with a specific diameter, length and wall thickness, you can turn to Solines. Moreover, we offer our pipes at very competitive prices! We can do this because we purchase large quantities of downgraded pipes and surplus batches. We regularly purchase the most frequently used diameters for pile pipes and drill pipes from high-quality producers. This means we always keep a large stock, and we can deliver quickly and cheaply.
Broad range
We are an international supplier of new and downgraded steel pipes, profile pipes and surplus batches. The total stock of steel pipes is around 40,000 tonnes, ranging in diameter from 10 to 1420 mm. Due to the additional range of steel pipes from our second independent branch in Germany, we are always able to meet your need.
Customization in steel pipes
You can have pipes cut to any desired length. Do you also need welding work done, or do you want the pipes fitted with bell ends? No problem at Solines! We have a professional workshop to perform all the common work on your pipes.
Quick delivery
Solines delivers in the Netherlands and in most European countries. Loading is fast and efficient because Solines has a large stock, terminal trucks, trailers and a second independent branch in Germany. The central location at the industrial park in Moerdijk with direct connections to the surrounding motorways, deep sea access and its own connection to the rail network gives us a unique position!