Foundation technology: customization in drill pipes for Erasmus MC
Davey Wieffering
Drill pipes for Erasmus MC in Rotterdam
For the foundation of new construction of the Erasmus MC in Rotterdam, Solines was able to supply drill pipes in January 2016. The pipe piles Ø 457×8 mm with steel grade X60 were made to size according to specifications. They were fitted with grout injection lances.
Drill pipes with thinner wall thickness
Due to the higher steel quality of X60, a diameter of 457 mm and a wall thickness of 8 mm could be used.
A total of 28 pipe segments were delivered. Solines has the ability and expertise to weld on drilling points, but in this case, the foundation company opted to weld the drilling points onto the bottoms of the piles on site.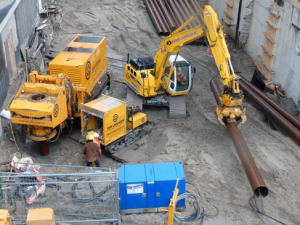 Outdated
The main building of the Erasmus MC is considerably outdated after more than 50 years. Modifications were necessary to comply with current rules and regulations. New construction turned out to be the best choice for this, right at the door of the original hospital, the Dijkzigt building. The drilling piles were used for the western section of the construction.
Construction started in January 2012. Several phases have already been realized, and the plan is for the relocation to take place at the end of 2017.
At the moment, the pipe piles have been put into the ground. We wish the Erasmus MC much success with the further completion of the hospital.