Roof construction for underground garage
Davey Wieffering
Solines has supplied steel pipes for a new underground garage of a German insurer. For this project, 11 pipes with the diameter Ø 1220 x 10 mm were used for the underground garage. The pipes were part of the roof construction.
Solines supplied the pipes, and a construction company was engaged to weld the locks for attaching the pipes to each other. The pipes, with diameter Ø 1220 mm, were drilled horizontally under the tram rails by our customer. In order to achieve the desired stiffness, the tubes were filled with concrete. After this construction was completely installed, it was possible to continue with making the underground garage.
Material used: 11 pieces of 13 metres in Ø 1220 x 10 mm.
If you have projects like this, for which you can use such pipes, please contact our sales department.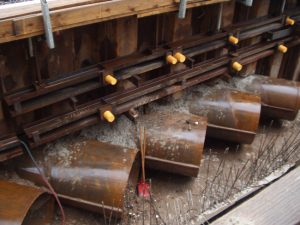 Below is a side view of the underground garage.