Steel construction: hot-dip galvanized pipes
Davey Wieffering
For the construction of pig, cattle and chicken housing, use is made of thermally (dipped) galvanized pipes in different diameters. Among other things, Solines has a constant stock of galvanized pipes in Moerdijk, so that we can deliver directly.
Pipes with different diameters and wall thicknesses
These are pipes with diameters between 17.2 mm and 114.3 mm with a wall thickness varying from 2.0 to 4.0 mm. The galvanized pipes are delivered with smooth ends, but more and more customers are asking for pipes with ends fitted with thread and socket (see photo below). We deliver that as well.
Chicken house with hot-dip galvanized pipes
Below is an example of a chicken house for which Solines supplied the galvanized pipes. These kinds of houses are being built all around the world. In the chicken house from this example, the chickens live on different floor levels and can run free, even outside. The eggs are laid in the nest boxes (in the foreground of the photo). The eggs from these houses are free-run eggs. If the chickens stay indoors, the eggs are sold as free-range eggs.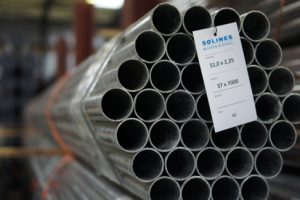 Extra service: rejuvenating and perforating steel pipes
The galvanized pipes are mainly used for opening and closing the nests. As an extra service for the stall builder, Solines also handles rejuvenating and perforating these steel pipes so that they can be used immediately.