Own rail yard
Davey Wieffering
Solines opens its own, new railway yard for transporting pipes and steel.
In June 2013, Solines started using its own railway line for the transport of pipes and steel. Around 2 years ago, Solines decided to start this project on the site in Moerdijk. One of the reasons is that European factories consider rail transport important for the supply of pipes. In addition, transport by rail reduces CO2 emissions.

High loading and unloading capacity
The capacity is a facility of approximately 125 linear metres for unloading wagons. 6 to 7 single or double wagons can be set up here. The advantage of double wagons is that they can be loaded twice 12 metres consecutively. In total, Solines has installed 250 metres of track. The central delivery at the Moerdijk Port occurs daily.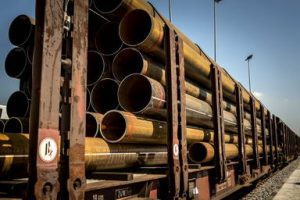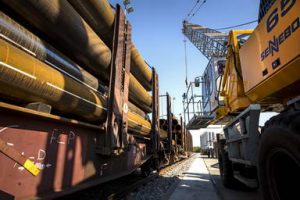 Logistical leap forward
The railway yard represents major logistical progress for Solines, in terms of both time savings and handling. We can now unload according to our own schedule and are no longer dependent on delivery by lorry. Moreover, it results in big cost savings. The average diesel consumption of the cranes has decreased considerably: driving back and forth to the public yard in Moerdijk is no longer necessary. And that is also good for our environment. Of course we can now supply pipes and steel by rail. With this private rail connection, Solines is clearly investing in the future. We therefore celebrated the official inauguration of the track.